AWARD-WINNING AUTHOR AND POET HELPS MARLEIGH PRIMARY ACADEMY CELEBRATE ITS SENSE OF PLACE AND FIRST ACADEMIC YEAR
More than 320 members of Cambridge's local community, including 160 children from 15 schools, and special guest, author, and poet Michael Rosen, came together on Tuesday 27th June, to celebrate the formal opening of the new Marleigh Primary Academy, part of East Anglian multi-academy trust Anglian Learning.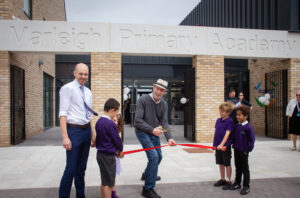 The exciting Anglian Learning celebratory event marked the completion of the Academy's first academic year, with an official ribbon-cutting ceremony, plus the opportunity for children, parents, and guests to participate in a host of fun-filled activities and performances. The day was enjoyed by all and finished with a colourful carnival procession led by all the children in Marleigh's Jubilee Square.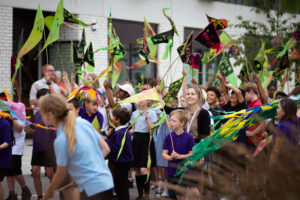 During the opening ceremony, children from the Trust's nine primary schools formed a mass choir and sang 'Home' and 'Voices of Hope'; the lyrics of which were written by Michael Rosen. Michael Rosen is a British children's author and poet who has written 140 books and served as Children's Laureate from 2007 to 2009.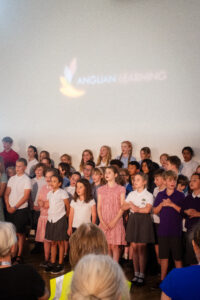 All Anglian Learning schools have a strong focus on creative arts subjects and the positive effects they can have on mental health and wellbeing. Anglian Learning is one of only eight Creativity Collaboratives for the Arts Council England, and the only one in the South East. A selection of creative art skills was showcased during the day by the children at Marleigh Primary Academy, along with the other Anglian Learning schools.  This included an art exhibition and film screenings about why the Arts are important and the power of the Arts on young lives. Guests also enjoyed a compilation of dance, drama, and music performances from the children, as well as activities in the school's woodland which were presented by Marleigh Primary Academy's Eco Group.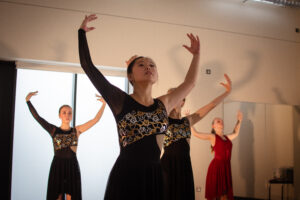 Guests were also treated to a visit from some of the Trust's therapy dogs, who form an important part of the wellbeing support offered to the children, and representatives from local wellbeing charities and organisations that work with the schools including Blue Smile and STEPS.
Marleigh Primary Academy is a new two-form entry primary school and 52-place nursery that is part of Anglian Learning. Made up of 15 establishments that provide outstanding education and learning to the communities of East Anglia, the school is set at the heart of the new Marleigh development on Newmarket Road, created by partners The Hill Group and Marshall. Echoing Cambridge's world-renowned reputation for being a thriving hub for innovation and technology, Marleigh Primary Academy has established a strong STEM (Science, Technology, Engineering and Mathematics) curriculum which was a core focus of the activities that visitors could see and experience at the formal opening.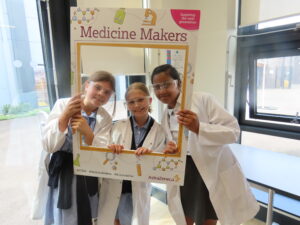 Jonathan Culpin, CEO of Anglian Learning, said: "This special celebration of Anglian Learning has been a highlight of our academic year. Seeing 160 children from our 15 schools come together at Marleigh Primary Academy to demonstrate their passion for the Arts through their performances has been quite spectacular. These dynamic, empowered learners have proven how they can thrive in their community.
"We are grateful to Michael Rosen for formally opening Marleigh Primary Academy as part of this celebration day and the children have enjoyed meeting with him. We are very passionate about providing the best education we can for our communities, and Marleigh Primary Academy is no exception.  We are incredibly proud of everything the school has achieved so far, and this special event has been a truly wonderful celebration of all the areas of learning that have brought to life the 'Sense of Place' project – helping to welcome all of the Marleigh children and staff into the Anglian Learning family."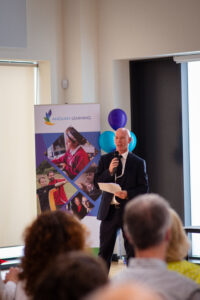 Michael Rosen said: "What an absolute pleasure to have been given the honour of formally opening Marleigh Primary Academy and be a part of this wonderful celebration day. A special thank you to all the children in the choir who beautifully sang the lyrics I composed about Hope and Home, and to all the teachers and staff who worked with the children to compose their own poetry and the other creative projects that display all the fantastic areas of learning throughout the family of Anglian Learning schools. Marleigh Primary Academy is sure to be an incredible addition to the community here and will offer children a fantastic place to learn and grow for many years to come."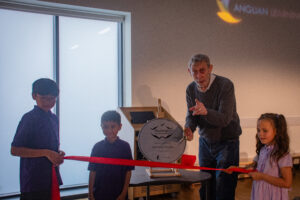 Mike Fish, Headteacher of Marleigh Primary Academy said: "I am very proud of the children and staff for all the support and effort that has gone into making our Sense of Place celebration day such a success. I have had the honour and privilege of becoming the Headteacher for Marleigh Primary Academy and participating in events like this really does highlight the passion and care that Anglian Learning have for providing high-quality education for the children and families in Cambridge. I look forward to welcoming more children through our doors and to planning more exciting events."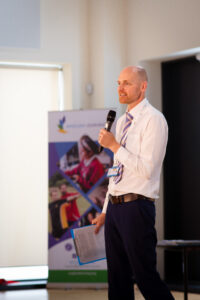 Greg Hill, Deputy Chief Executive of The Hill Group, said: "We are delighted that Marleigh Primary Academy has become the heart of the Marleigh development being delivered by Hill and our partner Marshall. I would like to thank Anglian Learning, alongside the staff and children for hosting such a joyful festival to mark the formal opening of the school, which will continue to educate many generations of Marleigh children for years to come."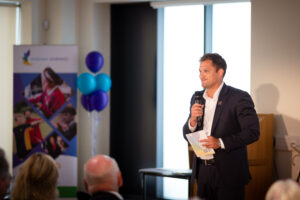 Marshall CEO Kathy Jenkins said: "Today's event marks an important milestone for Marleigh Primary Academy and is a testament to the hard work, dedication, and support from the Anglian Learning Multi-Academy Trust. I'd like to thank our partners at Hill for everything they have done to give the Marleigh development a real heartbeat and make it a vibrant and thriving centre of activity within Cambridge. We at Marshall are honoured to have been a part of this tremendous celebration of our local community's promising future."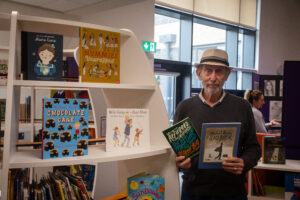 Marleigh Primary Academy is located within the desirable district of east Cambridge and proudly sits at the centre of the new Marleigh neighbourhood. Once complete, the development will deliver 1,300 new homes, alongside new public space, and sports pitches. Offering a selection of one to five-bedroom properties to suit a range of lifestyles, those who choose to make Marleigh the place they call home will be welcomed into a flourishing new community that will continue to grow for many years to come.