Marleigh Primary Academy staff visit their new workplace
With the start of the Summer Holidays upon us, our recruitment for Marleigh Primary Academy is complete and we have an excellent team ready for our September opening. Our teachers have completed two induction days, one of the highlights being a tour of their new workplace which is days away from being handed over.
Our 'Sense of Place' curriculum plans are in place, including an Autumn term focus on settling in and wellbeing; some exciting STEM resources and enrichment activities; regular Forest School learning; and creative arts plans. We are looking forward to engaging with our diverse community and working closely with parents to bringing these plans to life.
The staff team are excited to get on site, lay out classrooms, unpack resources and make Marleigh Primary Academy come to life, ready to welcome all our new pupils.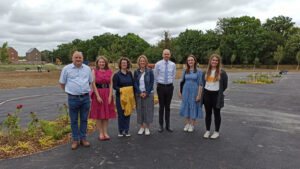 Marleigh Primary Academy has capacity for up to 420 pupils and 52 nursery age children and is part of Anglian Learning, a multi-academy educational trust.
The school will have a particular teaching focus on STEM subjects – science, technology, engineering and mathematics – reflecting Cambridge's excellence in these areas. For children ages 3 years old upwards, the nursery will provide a place where they can explore and develop their understanding.
The design of Marleigh Primary Academy has been developed by drawing on research into effective school design taking into account the need to provide a flexible approach to learning. Pupils will be provided with access to outdoor areas including woodland for outdoor learning and extending Forest School approaches.
The new primary school and nursery will be at the heart of the Marleigh community, where 1,300 new homes are under construction. To find out more about the Marleigh Primary Academy please visit: https://marleighprimary.org/ and to apply for a place at the school or nursery, get in touch via enquiries@marleighprimary.org or https://marleighprimary.org/admissions